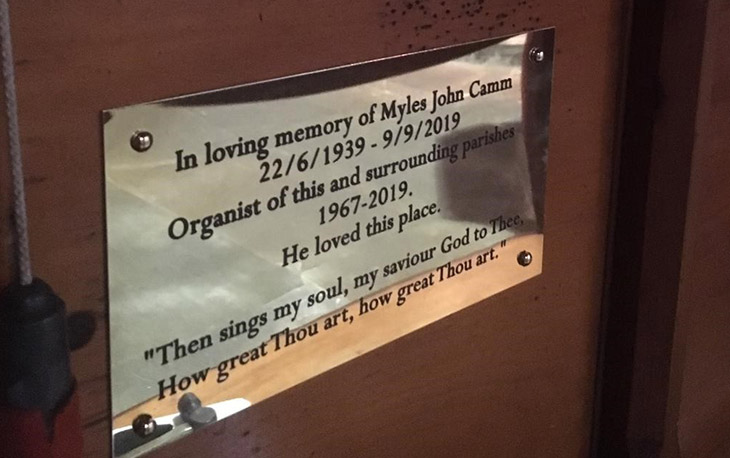 John Blenkiron & Sons Funeral Directors had the honour of conducting the funeral of a much-loved and respected member of the community.
A memorial plaque has been installed on the organ at Easby church in memory of Myles John Camm who passed away suddenly last year at the age of 80. A small family gathering to dedicate it on Christmas Eve seemed appropriate because, as an organist, this was his busiest day.
Myles was born in Richmond in 1939 near Easby & lived in the town for most of his life. Married to Anne & father to Adrian & Caroline, he taught Maths at Richmond & Risedale schools for many years & served as church organist in several local parishes including Easby for 54 years. His funeral service was held there last September & his ashes were scattered in the Swale nearby, as was his wish.
Myles grew up in Gunnerside & Reeth & remained very much a Dalesman all his life, with a great love of the natural world & bracing Yorkshire weather. Myles was an accomplished musician whose best love was the organ, the "king of instruments". He played at countless services, weddings & funerals in the area with great pride & pleasure.
He left detailed requests for his own funeral music & his hymn choices included "How Great Thou Art", which describes the marvels of the natural world & the goodness of God.
The opening lines of the chorus are inscribed on his memorial plaque on the organ at Easby church as a loving & permanent tribute to a man of great heart, intelligence, curiosity & faith who, for many people, will be sitting at the organ always.